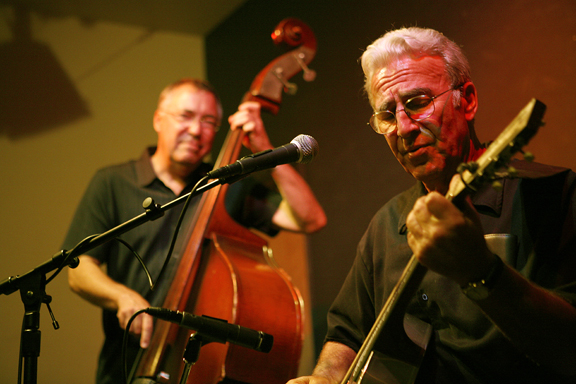 The blues is life itself to Bernie Pearl. A guitarist with an upbeat, finger-poppin' picking style he learned at the elbows of bluesmasters Sam 'Lightnin' Hopkins, Mance Lipscomb, Mississippi Fred MacDowell, and others. Yet, Bernie Pearl is no hidebound traditionalist. As music critics and aficionados have said for years, he is a craftsman who packs his songs with melodic interpretations that are new and personal each time he picks up his vintage Martin or National. To hear him tell it, "I'm not a retro player. I'm playing real blues for right now."
Bernie, who grew up in the Los Angeles community of Boyle Heights, took up the guitar in the 1950′s. Later, at his brother's legendary blues showcase, the Ash Grove, he met, studied with, and often performed with greats like Hopkins, Lipscomb, and MacDowell as well as with Freddie King, Albert Collins, and Big Mama Thornton. Bernie played duets with John Lee Hooker at Gerde's Folk City in Greenwich Village. "They were my teachers," he says, "and it wasn't just music they were teaching. If you took Mance or Lightnin' out fishing you got philosophy, history, and lessons in life".
Armed with the teachings of those and other blues icons, Bernie raises the roof with dazzling guitar solos – acoustic and electric – and with his own Bernie Pearl Blues Band, which has backed the likes of B.B. King, Stevie Ray Vaughan, Willie Dixon, and Big Joe Turner.
For music lovers tired of market-tested commercial radio and industry-buffed overnight phenoms, Pearl provides virtuosity, country wisdom, a warm voice, and the kind of fingerpicking and slide guitar work that still gets juke-joints jumping.
"Making blues music draws from someplace deep," he says. "I'm lucky. It's what I do."
We are also pleased to announce that Bernie will not only be performing at the 2009 festival, he will also be providing a free blues guitar workshop at the Buchanan Center for the Arts on Saturday morning, October 24th, from 10:30am until noon. For more information, click here.
Visit Bernie's website at: www.berniepearl.com